Creators Showcase: Our Favourite D&D Artists and Content Creators
Hail and well-met adventures! 
May 14th, 2020 - Since the world turned upside down in March this year, there have been major event cancellations with many creators losing out on work opportunities. So, in this week's blog, we thought it would be a great idea to start a Creators Showcase series! Where every couple of weeks we will share a list of artists and content creators from the D&D and table-top RPG community.
Now more than ever, it's important to support creators in the community, especially those who have been struggling due to the effects of COVID-19. It is also a great opportunity for you to grab some awesome loot and if you are like us and have already binged watched everything on Netflix and YouTube, to find some new online content to sink your teeth into!
Now we know it has been a difficult time for many people and maybe you don't have to funds to buy prints, commissions or to subscribe to a creator's Patreon. But following, liking and sharing a creator's content is also a great way to show your support.
To start off we are going to share some of our favourite creators whose content we have been enjoying recently and if you are an artist, cosplayer or online creator in the D&D community and would like to take part in the next Creator's Showcase or want us to shout out your favourite D&D creators, send us a message through our Facebook or Twitter page! 
Dingo Doodles 
Dingo Doodles is an animated YouTube channel created by Dingo, the founder of Electric Bunny Comics.
Image source: 
ElectricBunnyComics
Dingo creates animated videos based on personal stories and her 3.5e homebrew Dungeons & Dragons campaign called "Fools' Gold" which follows the adventures of Sips the wild-magic wielding monkey, Gothi the druid, Erina the magical girl, Gorthon the golem, Lucian the spell scale artificer and Sneeze.
The campaign is run by Dingo's partner Felix and follows the party as they cause havoc throughout Rascam.
Dingo Doodles Links: YouTube, Comics, Twitter, Instagram, Store
The Bearded Bard 

The Bearded Bard is a D&D content creator who creates wholesome D&D content and hilarious TikTok skits based on D&D memes. He also makes some pretty awesome woodworking videos! 
 The Bearded Bard Links: TikTok, Patreon, YouTube, Twitch, Store
Jakface  
Molly Nemecek aka Jakface is a digital artist from White Rock, Canada. She is a comic artist, character illustrator and creates amazing artwork from anime, video games and series such as Critical Role and The Witcher.
Jakface Links: Patreon, Twitter, Tumblr, Instagram, Artstation, Store, Redbubble
JessoLaurus Rex 
Jesse and Laura are an amazing award-winning cosplay couple from Colorado, USA. They have cosplayed popular characters from series such as Game of Thrones, Critical Role and The Witcher. They also play D&D on their YouTube channel!
JessoLaurus Rex Links: Facebook, Instagram, Twitter, Ko-Fi, YouTube 
Until next time adventurers! Stay safe and be kind!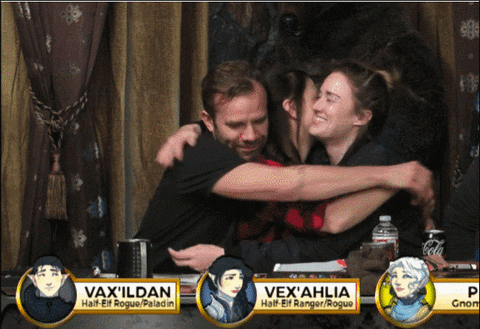 Image source: Giphy